What's Your Genetic Style?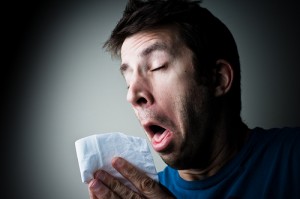 Sneezing……is it a sign of spring hay fever or that change of weather cold you catch every year? Seems inevitable, but know how to protect yourself and others from more serious consequences.
Bright sunlight, an over-filled stomach, dust, pollens, gasses, fumes, smoke, allergens, and, of course, disease will all cause sneezing. It's actually a fairly complex physical response that involves the chest, throat and face. The release of air can be upwards of 100 to 160 mph and can expel between 5,000 to 40,000 droplets. We are all programmed genetically in the manner in which we sneeze: one, two, three or more in a row. It's something we can't change.
In order to protect yourself and others and minimize your chances of back injury, remember these 3 things:
Always cover your sneeze, including both your nose and mouth
Don't pinch your nose in an attempt to stop or muffle the sound. Trapping all that pressure can damage your ears, including the middle ear and eardrum, or cause an infection
Always bend your knees slightly and place your hand firmly in the small of your back when you feel a sneeze coming on
Maybe You're Scared of the WRONG Thing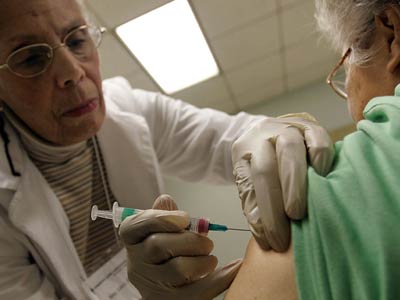 Look around…..even now, when spring is upon us, we are constantly bombarded with internet ads, TV commercials, printed ads, billboards, banners on drug stores, etc. to have your entire family vaccinated with the flu shot.  Why there are even price wars now offering discounted shots.   Do we really need to fall prey to the media hype?  How many of us ever stop to consider what the heck we are having injected into our bodies, or what possible health consequences that little flu shot could have.  Here's an article about a study in Finland on teens who have been immunized:

Did you know that the most common disease known to mankind actually responds BEST to the least expensive treatment?
Cold
Colds are caused by viruses, most commonly the rhinoviruses, and result in over one billion episodes a year in the U.S.  Children tend to have 6 to 10 colds per year, while adults average 2 to 4 colds per year.  Women, aged 20 to 30, tend to have more colds than men.  On average people over 60 have fewer than 1 cold per year.
Cold season is typically fall and winter.  It is thought that this coincides with kids returning to school and people staying closed in, in the winter.  The coldness may also make the nasal passages dryer and more susceptible to viral infection.
Studies suggest a person is most likely to transmit rhinoviruses in the second to fourth day of infection, when the amount of virus in nasal secretions is highest. Researchers also have shown that using aspirin to treat colds increases the amount of virus shed in nasal secretions, possibly making the cold sufferer more of a hazard to others.
Flu
Influenza, or the flu, is a respiratory infection caused by a variety of flu viruses. The U.S. Centers for Disease Control and Prevention (CDC) estimates that 35 to 50 million Americans come down with the flu during each flu season, which typically lasts from November to March. Children are 2 – 3 times more likely than adults to get sick with the flu, and they frequently spread the virus to others.  Although most people recover from the illness, the CDC estimates that in the flu results in more than 100,000 hospitalizations per year in the U.S., with approximately 36,000 people succumbing to fatal  complications.
Treatment
This is one area where allopathic (medical) health care and chiropractic health care used to be miles apart, but the allopathic doctors now give the same advice that chiropractors have given their patients for decades.  MD's used to give their patients antibiotics for the cold or flu, which they eventually found did NOT work.  The reason being, antibiotics are for bacterial infections, and cold and flu come from viral infections.  The end result was that not only didn't they treat the cold or flu, but in many cases the bad bacteria coincidentally present were often times not completely killed off.  This meant that the viral bacteria survived to become "super germs" such as MSRA which are highly resistant to antibiotic treatment.
Antibiotics are wonderful drugs which have been GROSSLY over used and abused by our society in general.  The way it is used in our meat products is a whole other discussion.  At this point MD's who prescribe antibiotics for uncomplicated colds or flu's are considered to be incompetent!  Some MD's still say they prescribe them to prevent secondary bacterial infections.  This too, has been proven to be a myth.  People only very rarely get secondary bacterial infections after having a cold or flu.
To properly treat your cold or flu you should realize that all of the germs which love to live in our bodies love to live in environments which are precisely 98.6 degrees.  That is why your body naturally raises your body temperature.  DO NOT get in the way of this natural process by taking aspirin, Tylenol, or cold remedies which lower your body temperature.  In fact you can help those natural processes by raising your body temperature.  I recommend that you keep it as close to 102 degrees as possible without going over 102 degrees.  You will be uncomfortable but you will get over the illness much faster.  You should also your body well hydrated with water, watered down fruit juices (1/3 juice, 2/3 water), broth especially chicken soup ("Jewish Penicillin").  Temporarily increase your intake of the B vitamin complex, this will help improve your overall energy.  You should also temporarily increase your vitamin C.  You can take 5 grams a day or more for up to a week.  Do not drink ANY sugary drinks or sodas.  These only serve to decrease your natural immunities.
| | | |
| --- | --- | --- |
| Symptoms | Cold | Flu |
| Fever | Rare | Characteristic, high (100-102°F); lasts three to four days |
| Headache | Rare | Prominent |
| General Aches, Pains | Slight | Usual; often severe |
| Fatigue, Weakness | Quite mild | Can last up to two to three weeks |
| Extreme Exhaustion | Never | Early and prominent |
| Stuffy Nose | Common | Sometimes |
| Sneezing | Usual | Sometimes |
| Sore Throat | Common | Sometimes |
| Chest Discomfort, | Cough Mild to moderate; hacking cough | Common; can become severe |
| Complications | Sinus congestion or earache | Bronchitis, pneumonia; can be life-threatening |
http://www.weather.com/activities/health/coldandflu/cfcoldfacts.html
http://www.weather.com/activities/health/coldandflu/cfflufacts.html
http://www.webmd.com/cold-and-flu/is-it-a-cold-or-flu