Pain, inflammation, tissue damage and rashes
As our population ages, orthopedic surgeries are becoming more routine, and hip replacement surgery is now one of the most commonly performed procedures. Not only is it more frequent, but the average age of the recipient is much younger. Consequently, it's now more important than ever to know that the replacements will last longer and not be fraught with complications. Unfortunately, complaints of failed hip surgeries are in the news all the time and are the source of numerous class action lawsuits. Certain types of devices are now the subject of FDA investigations.
Read on
for further information.
Supplements — How SAFE Are Yours???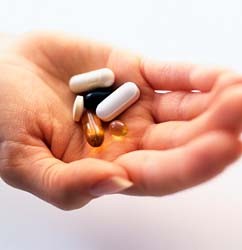 According to the Council for Responsible Nutrition (CRN), more than 75% of U.S physicians recommend nutritional supplements to their patients.  It's obvious that the American public is enhancing their health with a multitude of vitamins, minerals, herbs, botanicals and sports supplements, but just how SAFE are they?
When questioned, nearly 70% of supplement users reported having concerns about the safety, effectiveness and quality of ingredients.  Safety ranked first ahead of brand, and price was the last concern.
In the U.S., the FDA regulates nutritional supplements under the FOOD category, not the DRUGS category.  Unlike the pharmaceutical companies, who must obtain FDA approval, the dietary supplement manufacturers may bring their products to market without any approval.  Sadly, about 95% of U.S. supplement companies lack the resources to be able to self-manufacture and thus rely on contract manufacturers, many of whom are overseas.  Adulterated ingredients such as heavy metals have been found in imported supplements, mainly from China.   Shockingly, the sole reason the heavy metals are added is to increase the weight of the ingredients that are then sold by weight.
Due to lack of enforcement and quality control measures, there may also be substandard ingredients and no standardization in the dosage of the ingredient.  To date, China has not formed a regulatory agency to adequately oversee the manufacturing of nutritional supplements.  It has been stated that up to 1/3 of Asian supplements have drugs not listed on the label or contain lead, mercury or arsenic.
Although the contaminants, per pill, are very small, they do build up in the body over the years and can become quite detrimental.  With all the concerns and potentially serious consequences of ingesting tainted supplements, we are VERY careful about the supplements we provide for you.  You can rest assured that we carry only the finest, pure ingredient supplements that have been manufactured in the U.S. under strict quality control processes.  They are carefully assayed to make sure you are getting exactly what is on the label.